Our first publication, Thoughts from the Letters of Petrarch, commemorates the fine-press tradition of Peter Bishop's original Petrarch Press. Francesco Petrarca is best known as one of the first writers to experiment with the Italian vernacular for poetic expression. For his letters, however, he relied on the lingua franca of Latin, developing a sophisticated yet intimate style that returned to the more classical forms of Virgil and, above all, Cicero. In these letters – addressed with fine impartiality to friends, poets, and illustrious men both living and dead (including Cicero and Homer) – Petrarch ranges over a variety of subjects, yet always exhibits an earnest striving for greatness of spirit together with a sometimes rueful acknowledgment of his own shortcomings. Passages from his letters were selected and translated by Miss Johanna Lohse (1839-1911) in Florence, and published in 1900 in a charming pocket-sized edition by J. M. Dent & Co. in London. Peter Bishop chose this unusual volume, now rare, to be the first publication of the newly revived Petrarch Press.
I like silence above all things – next to it I like conversing with friends.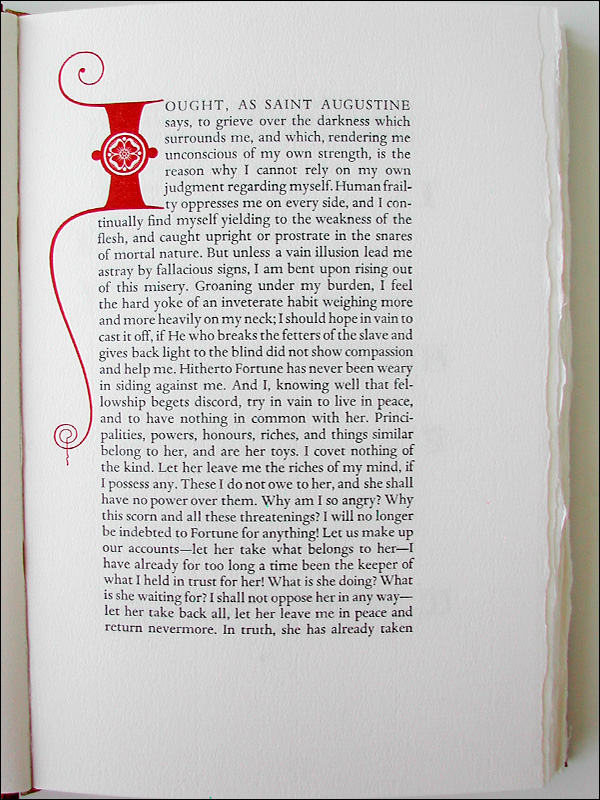 The 134-page text was printed by hand, sheet by sheet, on our restored 1851 Super Royal Albion handpress. Twenty copies were printed on sheepskin parchment from England, an edition of thirty on handmade Ruscombe Mills paper from France, and the main edition of 100 on all-cotton Arches Text mouldmade paper, also from France. Peter Cohen's designs for the book reflect early Italian manuscripts, with their initial capital letters printed in red, suspended in the margins. The bindings, designed by Peter Cohen and executed in collaboration with the Italian bookbinder Tiziano Codina, are in full leather for the parchment edition, half leather for the handmade paper edition, and fine silk for the mouldmade edition.
The hope that we may live even one more day is uncertain. I have always thought with admiration and praise of the saying of an old monk who, being invited one evening by the king to dine with him the next day, answered that tomorrow did not belong to him. A beautiful and impressive answer, worthy of a man who does not deceive himself nor imitate so many others who, hoping for the future, allow the present to escape without profiting by it.
Beautiful end pages were a hallmark of Peter Bishop's original Petrarch Press. To follow in his footsteps, we created a fanciful leaf design in two colors for Petrarch. We printed the first color run on a bright California day, but when we began to print the second color we could not seem to register the page correctly. A raging storm outside corresponded with our mood, as we tried repeatedly to correct the registration, cursing the platemaker, each other, and ourselves. Finally we checked the page against the first color plate and realized that the humidity had caused the paper to expand. At last we had something to blame-the weather! It continued to rain, but we had a book to print, so we stacked the paper in a closet together with our little space to recreate the warmth of the California sun. Only after several days did the paper return to its original size. Even then, we had to take it out, quickly print it, and then return it to the closet to keep it from changing shape again. For those of you familiar with printing on dampened paper, this is the reverse process, and one more example of the pitfalls that await anyone rash enough to print books by hand.
Thoughts from the Letters of Petrarch
The Petrarch Press, 2004
5 x 7-1/2 inches, pages xvi, 134.
EDITIONS
Mouldmade Paper
100 numbered copies (51-150) on mouldmade Arches Text paper; bound in silk-covered boards.
[Sold out, by subscription]
Handmade Paper
30 numbered copies (21-50) on handmade Ruscombe Mills paper; bound in half-Navy leather with printed paper boards & slipcase.
$ 875
[Sold out]
Parchment
20 numbered copies (I-XX) on sheepskin parchment; bound in full Navy leather with leather slipcase.
$ 2,950
The Petrarch Press
PO Box 488
9690 Stackhouse Lane
Oregon House, CA 95962
U.S.A.
+1 (530) 692-9531